Poland, for those who know, is an amazing country full of color and great food. For those who do not know, it is time to introduce you to another dolly city, this time to the west of the country and the capital Warsaw, the colorful Poznan. A trip to another city in Poland that is worth visiting.
Before you start reading take a look at our trip to Warsaw
How long should i stay in Poznan
One or two days is enough to get to know Poznan, which is relatively small and not at all crowded. Ideally you can combine your trip to Poznan with the nearby Wroclaw.
How to get to Poznan
By train from the capital Warsaw in less than 3 hours. The ticket costs about 15 euros and you can book it online on the main page of the Polish Railways. To help you, in the destination search bar you have to put Poznań Gοwny. The rail links in Poland are excellent and most trains are in very good condition.
By air, as Poznan is connected to some Greek cities. The airport is located just 5km outside the city and is one of the oldest in the country! (The easiest way to get to / from the airport is by Uber which will cost you less than 5 euros)
Read also my full Krakow guide
Where to stay in Poznan
As I have said before, Poland is probably the most "value for money" country in Europe, as it offers quality at insanely low prices. Prefer to stay in the old town in an apartment or in Tey Hostel, where we stayed (private room with bathroom, priced under 30 euros per night and right on the main square). Our room also had an extra bathtub by the bed, which in itself was enough of a reason to book it.
A brief history of Poznan
Fifth largest city and the beginning of the Polish state, as it is considered the first capital of Poland, is inhabited by about 1 million people and holds the fourth most recognized University in the country. Poznan is constantly evolving, while its old town still holds something old and worn out, which I particularly liked.
Must Do's
The Merchants Houses (Kamieniczki Budnicze)
Your trip to Poznan should start with a photo in front of the colorful houses in the main square! The "merchants' houses" as they are called are the trademark of Poznan and are essentially a series of colored elongated houses originally created in the 16th century by poor merchants. Under the arches they presented their goods and later the first shops were created there.
The entire square was destroyed during World War II, but rebuilt exactly as it was, with all its renaissance details.
Fun fact: The long-suffering Poznan, at some point, among other things, flooded and you can see the exact point where the water level had reached, in a specific building just opposite the colorful houses.
Town Hall (Ratusz)
Adjacent to the merchants' houses is a truly magnificent renaissance building, which is none other than the City Hall. It is truly a very quirky building as it began to be built in 1300, however various new sections such as a tower or a floor still continued to be added over the centuries. Of course it suffered damage during the BPP period, but it was quickly restored.
On each floor you will see a different story, from Polish kings to heroes of the past but the highlight is in the clock of the middle tower. There, every noon before 12, one of the customs of Poznan takes part, and that explains why the goat is considered the trademark of the city.
Crowds of people every day are waiting for the trumpet which will mean noon and then at the clock, you will see two small wooden goats beating their horns twelve times. Don't miss it, it's fun.
Poznan's old town
In Poznan, there are many beautiful buildings worth admiring and many alleys will take you to beautiful and somewhat abandoned corners. In the main square there are several fountains that you can also dedicate some time to, with a pączek (traditional pastry) in hand.
Do not forget to try the traditional sweet croissant of Poznan, the so-called "St. Martin's croissant" or Rogal świętomarcińk. The recipe is patented, so you will not find this anywhere else!
A sweet stop for dessert and hot chocolate
Cacao Republica: If you were tired of exploring, I recommend this wonderful Chocolaterie, which we loved and came back a second time to try other sweet and hot chocolates in many flavors!
Tip: Choose a comfy table by the window on the upper floor, order a hot chocolate and just watch the world go by.
Take a walk at Cytadela Park
A park that is worth walking, is located just outside the old town and is full of history, as it has not always been a happy place. It contains of a military museum, military cemeteries and the ruins of some fortifications, as it was part of the city's fortifications until World War II. After the end of the war, many touches were added to beautify it and it is now the usual place for the afternoon walk of the locals.
Do not forget to locate a special "monument" Nierozpoznani ("The Unrecognized Ones") by Magdalena Abakanowicz, in honor of all these "strangers" to us who walked there and died in the war. Really very imposing.
For lovers of history, in this tiny city of Poland you will find a very special monument. Designed by Grażyna Bielska – Kozakiewicz and Mariusz Kozakiewicz, this triangular prism with sequences of numbers is reminiscent of the three Poznan University graduates who deciphered the Enigma messages during World War II: Jerzy Rianjecki, Jerzy Różycki.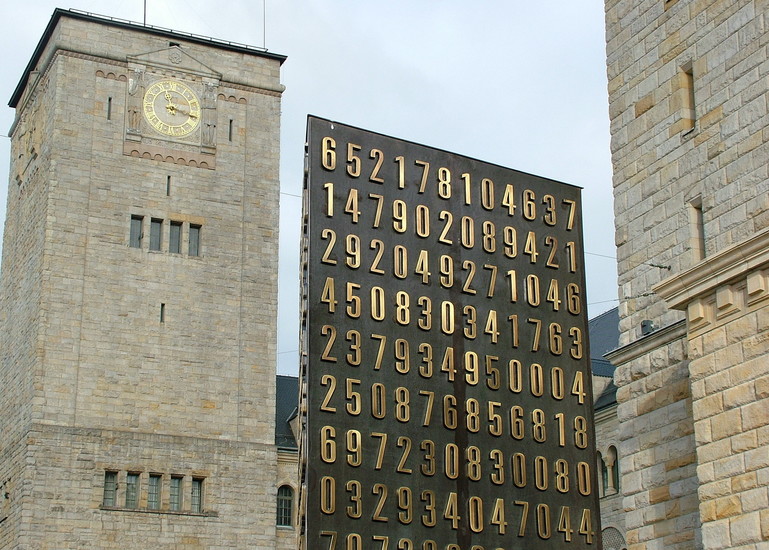 Photo album from Poznan
Safe travels
Evita